[Search Tip: Use " " for better search results ex. "John Q. Doe"; "City of ..."]

P-36 in flight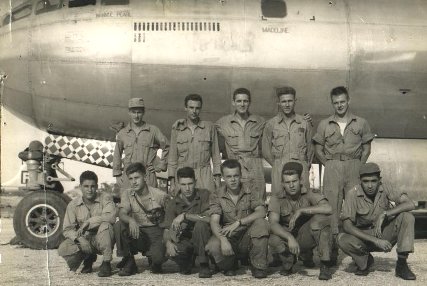 6 July 1945
Photo Courtesy of Hyman Blumenstock
Thanks to Joan Murphy, daughter of Joseph Bacigalupo for providing us with the names in order of their position in the photo.
Standing: L to R:
1st Lt
Robert L. Hickey
Radar
1st Lt
Joseph A. Bacigalupo
Navigator
1st Lt
Hyman Blumenstock
Bombardier
F/O
Henry L. Bogdanski
Pilot
1st Lt
George S. Mott, Jr.
Airplane Commander
Kneeling: L to R:
S/Sgt
Eugene J. Andreotti
Left Gunner
Sgt
Paul Paulick
Tail Gunner
S/Sgt
Herschel W. Bowling
CFC Gunner
S/Sgt
Martin E. Ismert, Jr.
Radio Operator
M/Sgt
Lawrence H. Cline
Flight Engineer
S/Sgt
William H. Carrell
Right Gunner
Note: crew names provided by Hyman Blumenstock; Rank for enlisted taken from 61st BS Enlisted Roster dated: 15 September 1945.
Crew 36
Honor Roll

1st Lt Robert L. Hickey

Radar Observer

MIA: 3 October 1945 training mission with P-40
S/Sgt Martin E. Ismert

Radio Operator

January 1980
1st Lt Joseph A. Bacigalupo

Navigator

10 February 1998
Sgt Paul Paulick

Tail Gunner

18 May 1998
1st Lt Hyman Blumentstock

Bombardier

31 August 2002
S/Sgt Herschel W. Bowling

CFC Gunner

18 September 2003
Update 03/26/01: One incident that is remembered by Hyman Blumenstock, Bombardier, was that one the way out to Guam we picked up a new B-29 in Nebraska. We thought there was something wrong with an engine during the first flight out and reported that fact when we stopped over in California. As he got out of the plane after landing, he sprained his ankle and reported that. Blumenstock states, "I believe that they probably thought we were trying to get out of going overseas and assigned the plane to another crew. Maybe it was just because of my sprained ankle. We found out later that that particular plane crashed at sea during flight to Hawaii and everyone was lost".
Update 03/23/01: Bernie Greene, P-31 recalls "Mott's crew shared a quonset hut with us. Bob Hickey had a cot next to me, after VJ-Day, he flew a routine flight with Capt. Devine's crew, P-40, which crashed in the sea off of Tinan, I think. I believe Sgt Courtney, FE, lost his life as did Hickey and co-pilot, Hammond Sadler, Devine and the rest of P-40. Crew 31 was on this training mission too and saw Devine's wreckage burning in the water. Some one may have survived, I remember some NCO coming to our hut and thanking Hank Snow, AC of P-31 for the part we played in sending a distress call with position of the crash". Updated info regarding Crew 40
Crew 46's story indicates that Arland Christ-Janer was a member of this crew. However there is no documentation available regarding this. His position is unknown. He did however serve on P-1's 3rd replacement crew.