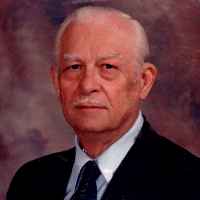 CHESTER H. PELT SR.
teacher, minister

The Rev. Chester Hayne Pelt Sr., 82, of Marianna, died Monday, Nov. 7,1994 in Flowers Hospital in Dothan, Ala.

A native and lifelong resident of Jackson County, Florida. The Rev. Pelt was an ordained minister of the gospel and licensed to preach by Marvin Chapel Freewill Baptist Church in 1932 at the age of 20. He was a retired Army chaplain with the rank of colonel. Due to ill health, he retired from teaching at Chipola Junior College as professor of philosophy and social sciences in 1973 and retired from active pastoral service in 1975. Rev. Pelt was still involved in interim preaching and was an active tree farmer- on the family's 240-acre pine tree farm.

Rev. Pelt was a 1940 graduate of Atlantic Christian College (now Barton College) in Wilson, N.C., prior to that he attended East Carolina University in Greenville, N.C., and attended Zion Bible School and Bob Jones University. During the 1950's after his separation from active duty, Rev. Pelt earned a Master's Degree in Philosophy at Florida State University, and did additional graduate work in marriage and family life.

While in the Army Air Force, he served as chaplain of the 39th Bomb Group, 314th Wing of the 20th Air Force on the island of Guam until VJ Day 1945. He was decorated with a battle star for the battle in the West Pacific and one for the Air Offensive against Japan. He was honored with the Asiatic-Pacific Campaign, the American Campaign and the WWII Victory medals, and his unit received a Presidential Citation.

Rev. Pelt was laid to rest in Comerford Pelt Cemetery.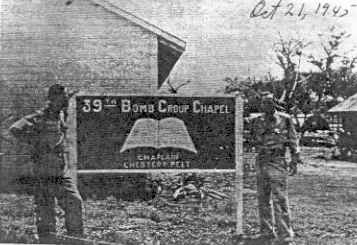 L to R:
Chaplain Pelt, 39th Bomb Group Chaplain
Major Joseph Sides, 314th BW Chaplain
21 October 1945
Often Chaplain Pelt was sought after to ride aboard the B-29's on test flights after extensive maintenance repairs.

---
The veterans of the 39th BG would always find Chaplain Pelt blessing the crews as they readied for takeoff, regardless of the weather, he was there.
Pelt [ 1 ] [ 2 ]