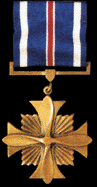 The Distinguished Flying Cross
GO 47 Sec 18 dated 28 August 1945 Issued by HQ 20th AF reads as follows:
First Lieutenant WILLIAM A. COSTA, 61st Bombardment Squadron, 39th Bombardment Group, Air Corps, United States Army.
"For extraordinary achievement while participating in aerial flight 1 June 1945. Lieutenant COSTA was the Navigator of a B-29 aircraft on a daylight formation strike from a base in the Marianas against Osaka, Japan. Immediately after bombs away, the bomber in which they had continued on the mission despite a malfunction in one engine, was hit by flak in a second engine. About an hour's flying time from the target, the propeller from one of the damaged engines broke off and, turning at high speed, struck the fuselage. The plane was almost cut in half in mid-air. Thereafter only two engines of the badly crippled B-29 were functioning; both of these were on the same side and one of them was damaged by flak. They struggled along in overcast in a right-wing-low, nose down attitude, and the Airplane Commander was forced to tack the aircraft back and forth across the set course, losing altitude slowly. Although the airplane was thus constantly changing course in a heavy overcast, Lieutenant COSTA, with an outstanding display of professional skill and airmanship, kept track of his position and directed the navigation of the bomber. When they finally broke out of the overcast, they sighted a small uninhabited island and the order to leave the plane was given. Lieutenant COSTA, gave his radio operator an accurate position report for transmission before parachuting from the aircraft. All but one of the crew were picked up the next day by rescue units. By his remarkable display of courage and superior professional skill, Lieutenant COSTA was substantially responsible for the saving of ten lives. His actions reflect great credit on himself and the Army Air Forces". [ top ]
Flight Officer JAMES M. FRODSHAM, 61st Bombardment Squadron, 39th Bombardment Group, Air Corps, United States Army.
"For extraordinary achievement while participating in aerial flight 1 June 1945. Flight Officer FRODSHAM was Pilot of a B-29 aircraft on a daylight formation strike from a base in the Marianas against Osaka, Japan. Immediately after bombs away, the B-29, in which they had continued on the mission despite a malfunction in one engine, was hit by flak in a second engine. Violent thermal currents siezed the airplane and threw it upward and out of control. Flight Officer FRODSHAM worked cooly and with outstanding efficiency to assist his airplane commander in bringing the crippled bomber under control. About one hour About an hour's flying time from the target, the propeller from one of the damaged engines broke off and, turning at high speed, struck the fuselage. The plane was almost cut in half in mid-air. Flight controls were seriously impaired and a third engine became inoperative. Flight Officer FRODSHAM and the airplane commander were forced to exert all their efforts and skill to control the bomber in a right-wing-low, nose down attitude. After about a quarter of an hour of flying in this perilous condition, they sighted they sighted a small uninhabited island and the order to abandon the aircraft was given. Knowing the flight engineer could not swim, Flight Officer FRODSHAM parachuted from the airplane with the engineer on his back. In the fall the engineer was torn from his back from the force of the wind. The high courage shown by Flight Officer FRODSHAM in risking his own life to save the life of his comrade, professional skill and airmanship in assisting to maintain control of the bomber reflect great on himself and the Army Air Forces". [ top ]
Technical Sergeant EDWARD M. KANICK, 61st Bombardment Squadron, 39th Bombardment Group, Air Corps, United States Army. (Missing in action) Next of Kin: Mr. Joseph Kanick, Sr., (father), 261 E. Abbott Street, Lansford, Pennsylvania.

"For extraordinary achievement while participating in aerial flight 1 June 1945. Sergeant KANICK was Flight Engineer of a B-29 aircraft on a strike from a base in the Marianas against Osaka, Japan. Subjected to severe flak and vicious attacks by fighters, his crew dropped their bombs squarely in the target area with devastating effect. Immediately after bombs away, their plane in which they had continued on the mission inspite of an engine malfunction, was hit by flak and caught in violent thermal currents. With two engines out of commision, Sergeant KANICK, by an outstanding display of professional skill, maintained the bomber in flight until the propeller broke from one of the engines and struck the aircraft with great force. Althought Sergeant KANICK could not swim, and he knew that either ditching or bailout would be extremely dangerous to himself, he remained at his post to aid in bringing the airplane to an advantageous position for the emergency action. When it was seen that the B-29 could no longer maintain flight and the order was given to bailout. Sergeant KANICK calmly left his post and jumped from the cippled aircraft. Althought the remaining members of his crew were rescued by a vessel of the United States Navy, a thorough search of the area failed to reveal any trace of Sergeant KANICK. His cool courage in the face of danger and his expert airmanship reflect great credit on himself and the Army Air Forces". [ top ]
Staff Sergeant JAMES E. SCHWOEGLER, 61st Bombardment Squadron, 39th Bombardment Group, Air Corps, United States Army.

"For extraordinary achievement while participating in aerial flight 1 June 1945. Sergeant SCHWOEGLER was Radio Operator of a B-29 aircraft on a daylight formation strike from a base in the Marianas against Osaka, Japan. Athough trouble developed in one engine after landfall on the enemy coast, the decision was made to contiune with the mission. They bomed the city with devastating results. When a second engine was damaged by flak over the target, the bomber went out of control and was thrown violently upward by thermal currents. Control of the B-29 was finally regained, and course was set for base at greatly reduced speed. About an hour's flying time from the target, the propeller broke from one of the engines and, turning at a high rate of speed, struck the aircraft. The plane was almost severed by the flying propeller. As a result the B-29 was left with only two engines functioning, both on the same side, and of these damaged by flak. It appeared highly probably that the plane would break in half in the air, and the crew was ordered to bailout, Sergeant SCHWOEGLER volunteered to remain to send out position reports. He couragiously stayed with the plane until he was certain that his final report had been received. Only then did he bailout. Sergeant SCHWOELGER landed safely in the water, and was later picked up by a rescue vessel. His courage and devotion to duty and his display of outstanding of professional ability reflect great credit on himself and the Army Air Forces. [ top ]