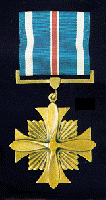 Crew 30 was awarded the Distinguished Flying Cross (DFC) for their participation in a mission against the Japanese home island of Kyushu on 4 May 1945. The citation reads as follows:

"For extraordinary achievement while participating in aerial flight over the Japanese home island of Kyushu 4 May 1945. The individuals formed the crew of a B-29 aircraft assigned to a daylight formation strike against Saeki airfield. Flying as number three in the lead element of the formation they were already on the bombing run a malfunction of the formation's leader's instruments occurred. The leader surrendered the lead immediately to this crew, and, with only a few minutes remaining before the bomb release point, they unhestingly moved into the lead position. Replusing several vicious fighter attackes during the remainder of the bombing run, they displayed outstanding skill and percision in setting up the bombing data for the strike, and led the other B-29's in formation unwaverlingly to the target. They released their bombs from an altitude of 18,000 feet and the remaining aircraft dropped their projectiles at this crew's signal with excellent results. They then lead the bombers in evasive action through heavy-caliber enemy flak and returned to safely to base. The exceptional skill, courage and precision displayed by these crew members during the critical period of this operation materially contributed to a mission which aided in the successful prosecution of the war, and reflect great credit on themselves and the Army Air Forces.

First Lieutenant ARTHUR D. SWANBERG (then Second Lieutenant), Air Corps, United States Army, as Radar Observer.

Technical Sergeant RALPH T. GERVAIS (then Sergeant), Air Corps, United States Army, as Central Fire Control Gunner.

Staff Sergeant JAMES W. WYCKOFF (then Sergeant), Air Corps, United States Army, as Blister Gunner.

Sergeant PASQUALE MASTROMATTEO, Air Corps, United States Army, as Tail Gunner.

The above award was per GO 66 dated 17 September 1945. Per GO 69 dated 29 September 1945 - First Lieutenant William A. Costa, Navigator and Staff Sergeant James E. Schwogler, Radio Operator received an "Oak Cluster" to their DFC* for the Saeki mission.

Sergeant Robert E. Weiler's name was omitted from GO 66 and thus did not receive his DFC - however during a Group reunion Weiler found out that the other members received the DFC for this mission that he was on. He contacted his Congressman who submitted documentation showing he was indeed on the mission. In 1994, Weiler received his Distinguished Flying Cross - 49 yrs after he flew the mission.

* per GO 47 section 18 dated 28 August 1945 - For the Oaska 1 June 1945 mission The Distinguished Flying Cross was awarded to Costa and Schwoegler in addition 2nd Lt James J. Frosham, Pilot; T/Sgt Edward Kanick M. Kanick, Flight Engineer for their actions [more] Capt William D. Orr, Airplane Commander received the Distinguished Service Cross on 1 June mission.

1st Lt James E. Blake, Bombardier was not listed on GO 66 or on GO 47. It is unknown what order his DFC was authorized. Blake is the only member of the crew that has never been located.