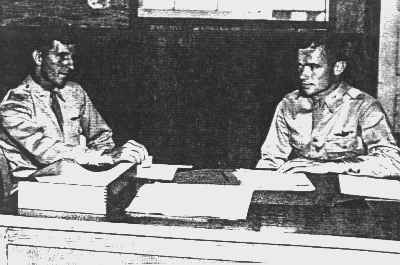 Lt Col Sturdivant, Dpty CO;
Col. Potter Paige, CO.
I was assigned to the initial cadre of the Group in June of 1944, and took initial command until sometime in July or August when Colonel Potter B. Paige arrived in Salina to assume command. Nine or ten of us had already checked out in the B-29 at Alamogordo, New Mexico in July and were to comprise the 39th command, staff and operations jobs. When the crews and maintenance people arrived, we began flight training in a bunch of really raunchy B-29's. All will probably remember the problems we had with engine fires, runaway props and blown "jugs." The flight crews and maintenance personnel were truly dedicated and few realize what a miraculous job they did to keep those aircraft in the air, not to mention the added responsibility of trying to accomplish our required training in the face of these obstacles. Everything seemed to be working against us. Bad weather came early in the fall; it was just about as bad as Kansas can get - rain, wind, cold fronts, snow, and so it went.
This caused us to fall far behind in our training, so it was decided that the Group would go down to Batista Field in Cuba in order to accomplish all that had to be done. We deployed the entire 39th in December and January and were able to catch up on most of our training during our stay there. We, however, were not able to complete fully the flying time, navigation and bombing missions that had been scheduled.
During this time we were also having added problems of command. The Group Commander was seldom at Salina and he never showed up in Cuba to direct the activities of the 39th. Consequently, all of these problems ended up in my lap. We had in addition to the many day-to-day difficulties, the necessary planning for the trip to Cuba, and preparations for the immediate overseas embarkment of the ground echelon as well as that of the flight echelon which would soon follow. Fortunately, we had an exceptional group of staff officers Tommy Thompson, Bill Crumm, Woody Carpenter, and Rob Strong. These people, I am proud to say, rallied together with the flight crews and maintenance personnel to create a close unit relationship and an esprit de corps which was able to compensate for many of our difficulties.
Colonel Paige was relieved of command in early January just before we began our deployment and Colonel Fowler was named as his successor. Colonel Fowler never did appear on the scene either in the States or on Guam and therefore was commander in name only. It was left up to me to complete the Group's training, ship our equipment, receive our aircraft, and deploy the unit overseas. I will admit that I was very disappointed that I didn't get the Group command at that time. They pointed out, that at age 26, and only six years out of the academy, I was considered too young and inexperienced for the job.
As one may remember, we staged at Herington, Kansas and deployed to North Field, Guam via Mather Air Force base, Hickam Field in Hawaii, and Kwajalein. I was aboard the first aircraft, P-2, commanded by Captain Keene.
When we arrived at Guam, newly named Group Commander, Colonel George W. Mundy was on hand to greet us. He proved himself to be a most capable leader whom I respected and liked very much. Your biography of him was really outstanding in that you caught the very essence of his personality. We grew to be close and steadfast friends both there on Guam and continuing later when I took over the 6th Bomb Group at Clark Field, where he was 313th Wing Commander.

Sturdivant [ 1 ] [ 2 ] [ 3 ]