Charles A. "Chuck" Castle was born Jan. 3, 1918, to Edwin W. and Annastasua Josephine Kopicki in South Bend, Ind.
He married Margaret A. Holmberg on May 9, 1948. They have 2 daughters Colleen and Cheryl; 2 grandsons and a great grandson.
He entered into the service 06 Apr 1942 from Toledo Ohio (1) serving as a tank commander before transferring into the Army Air Corps and becoming a Flight Engineer with Crew 20.

Chuck was the former senior vice president and member of the board of directors of the Inter City Bank, now Chemical Bank. His banking career began in 1946 with the St. Joseph Bank and Trust Company in South Bend, IN. In 1953 he was made an assistant vice president of the Union State Bank of Buchanan. He, Eitel Eberhard and Al Hosbein were instrumental in merging that bank with the Benton Harbor State Bank, forming the Inter City Bank. He moved from the Buchanan office to the Benton Harbor office in 1963. He completed banking courses at the University of Notre Dame, the University of Virginia, and Harvard University in Boston. He was elected to the Board of Directors at Inter City Bank in 1968, a position he held until he retired in 1980.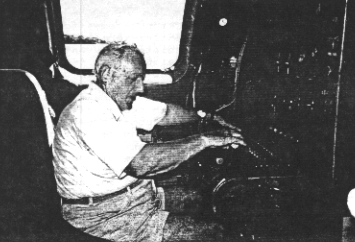 Charles "Chuck" Castle in his old position
on board "FiFi" in July 1991
He's a member of the Riverview Park Christian Church, where he served as a deacon and an Elder; A member of the St. Joseph Masonic Lodge 437, Valley of Grand Rapids Scottish Rite, the Berrien County Scottish Rite Club, Shriners Saladin Temple of Grand Rapids and a member of the Berrien County Shrine Club; a charter member of the Michigan Sheriff's Association and the 39th Bomb Group Association.
(1) per WWII Enlistment Record - National Archives AAD system