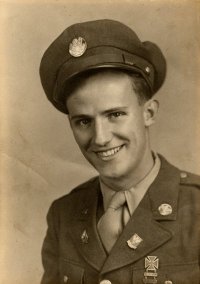 1943
Thomas W. Flannigan was born on October 24th, 1923 in Saint Marys, Kansas. He graduated from Saint Marys High School in 1942. He was inducted into the Army at Fort Leavenworth, Kansas on January 27th, 1943. He received basic training "on the beach" in Florida. He then went to training at a number of locations including Scott Field, Illinois; Truax Field, Wisconsin; and Lowry Field, Colorado.
While at Truax he met a local Madison girl named Lois Dempsey. They were married on August 5th, 1944 in Salina, Kansas while he was based at Smoky Hill Field.
He served on Guam in the 60th squadron as an armaments specialist. He "loaded bombs". Sometimes more than once as missions changed in midload.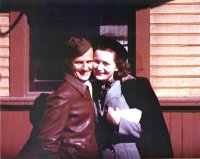 Tom & Lois
Salina Train Station 1944
Because he had been fruitful before he left the U.S. (his wife had a son while he was overseas) he was one of the first of his unit to go home after the war. He was discharged on December 1st, 1945 at Fort Collins, Colorado.
He went home to Saint Marys where he lived for the rest of his life. After a period of odd jobs he landed a job with the Post Office that he held until he retired.
Tom and Lois had four sons and six grandchildren. Lois died in 1983. Tom married Wanda Walker in 1986 and helped raise her two daughters.
Click on image to enlarge
| | |
| --- | --- |
| | |
| Guam | Offut AFB- SAC HQ 1980 |
Tom died on August 25th, 1999 and was buried with full military honors on August 27th, 1999 at Saint Marys.
Michael Flannigan (his son) provided this information.