Decorations
---
Unit Citation
and Awards


with
Oak Leaf Cluster

---
Service Awards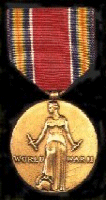 Mr. Bounds was born Mar. 2, 1924, in Turney, TX.

He entered the service from Tyler, TX on 11 Feb 1943.

He married Billie Sue Bounds and had a son, Billy N. Bounds.

He was a Funeral Assistant for Thompson Funeral Home for 27 years; He was a deacon at Corinth Road Baptist Church for over 50 years.
Ira A. Bounds, Jr. took his final flight 18 February 2005, at the age of 80 yrs. He was buried in Jarratt Cemetery in Turney, TX.
Excerpts from the obituary of Floyd P. Batchelor found on the Columbia Daily Tribune web site.
Ground Echelon
60th Squadron Ground Roster