[Search Tip: Use " " for better search results ex. "John Q. Doe"; "City of ..."]
Replacement Crew 42
B-29 # 44-87642 - Slim II
Originally assigned to P-44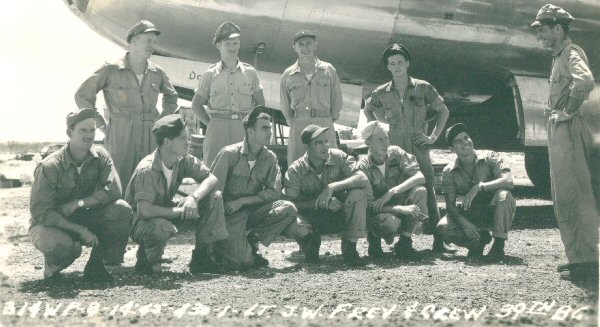 Taken: 8/14/45
Photo Courtsey of Richard Kelso, Son in-law Lt Col James H. Thompson
Standing facing crew:
1st Lt James W. Frey
Airplane Commander
Standing (back row) L to R: 1st Lt Wigo E. Brandt, Radar Observer; 1st Lt Wayne E. Andrew, Pilot; 2nd Lt Mervyn B. Robinson, Navigator; F/O William F. Schreck, Bombardier
Kneeling L to R: Sgt Charles E. Gray, Left Gunner; S/Sgt James W. Andrews, CFC Gunner; Sgt William B. Hathaway, Right Gunner; M/Sgt Nicholas J. Livingston, FE; Sgt Herbert C. Verry, Radio Op; Sgt Andrew Harnaha, Tail Gunner
Crew 42R
Honor Roll

1st Lt Wayne E. Andrew

Pilot

Died in B-52 accident

S/Sgt James W. Andrews

CFC Gunner

2

Sgt Charles E. Gray

Left Gunner

3

Sgt William B. Hathaway

Right Gunner

23 January 1988

2nd Lt Mervyn B. Robinson

Navigator

05 May 1989

Sgt Andrew Harnaha

Tail Gunner

28 February 1999

1st Lt Wigo E. Brandt

Radar Observer

03 November 1999

1st Lt James W. Frey

Airplane Commander

24 December 2005

M/Sgt Nicholas J. Livingston

Flight Engineer

28 June 2011

2nd Lt William F. Schreck

Bombardier

15 December 2014

Sgt Herbert C. Verry

Radio Operator

20 April 2016
Updates:
11 Mar 2019 - Sgt Herbert C. Verry, was added to Crew Honor Roll & to the Final Flight Honor Roll section. He was surviving member of this crew.

20 Dec 2014 - 2nd Lt William F. Schreck to Crew Honor Roll, thanks Richard Cookson for bring this to our attention; with the passing of 2nd Lt. Schreck, Sgt Herbert C. Verry, Radio Operator is the last remaining member of this crew.
02 Jul 2011 - M/Sgt Nicholas J. Livingston added to Crew Honor Roll, thanks to his grandson, Jason for notifying us.
25 Jun 2010 - Andrew, Robinson, Andrews, Hathaway, Gray & Harnaha have been identified in the above crew photo. Charles Williams, a visitor to our site was able to contact Herbert Verry, Radio Operator, verifiy the photo and who is pictured. Thank you Mr. Williams!
Mar 2006 - 1st Lt James W. Frey added to Crew Honor Roll.
Feb 2006 - Corrected ranks per SO 148 dated 18 June 1945 Issued by HQ PAAF.

Nov 2005 - William Schreck contacted our web site and provided us with his POC; Made contact with Nicholas Livingston who provided us with POC for Herbert Verry.
If you have any additional information about this crew please email: updates@39th.org
The following came from Steve Smiesk, webmaster 330th BG (VH) web site during a conversation with 1st Lt John Dickerson, 457th BS, 330th BG:
"Late in June 1945, three crews of 8th Air Force 316th BW, 346th BG received orders to take off for the Marianas where they would fly with the 20th Air Force. The 314th BW needed replacement crews and they were to absorb experience which they could later pass on to their fellow crews. On 5 July 1945 'the 8th Air Force landed on Guam' They were the only crews of their 316th BW squadron to see combat."
Glenn Carmen, historian for the 316th Bombardment Wing & whose father served in the 333rd BG, 316th BW, forwarded data from orders dated December 1944 Issued by Alamogordo Army Air Field listing this crew.

The Frey Ccrew was on DS from 463rd BS, 346th BG, 316th BW.
James W. Frey, Airplane Commander confirmed they were Replacement Crew 42 (39th BG (VH) ). They flew approximately 9 missions including the last combat mission on 14/15 August to Isesaki.
Herbert Verry, Radio Op, New Hampshire is only remaining member of the crew.
Slim II" pictured in the background was assigned to Crew 44, Capt Carroll Payne, AC; according to 1st Lt Charles A. Smith, Radar Observer - "Payne returned to Guam in time to participate in the flyover of the Missouri during the surrender ceremony. The rest of us returned to the States from Oahu". Frey mentions that while they only flew 9 missions all believes all were flown in "Slim II"
If you have any additional information about this crew please email: updates@39th.org