After the war, I returned to Illinois College in Jacksonville, Ill. and graduated in Liberal Arts.
I met a beautiful girl at a Thanksgiving dance, fell in love and married Delores Drake. We had Three sons, Marc, Eric, David and a daughter Laura. All three sons graduated from Northern Illinois University, and Laura graduated Rockford College. LAURA has a Masters from University Of Chicago. David a Masters from DePaul University.
I got into politics and was an elected official of River Grove for 20 years. I am now retired.
All my children are married and I have & seven grandchildren.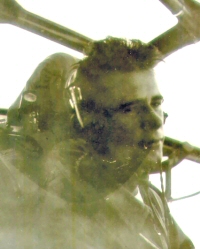 1st Lt Leonard W. Wasowicz
in position as Bombardier