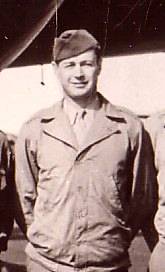 S/Sgt Clarence H. Martin
Clarence (Jim) grew up and attended school in Monroe, NC. A graduate of the high school there, he attended Wingate College where he received his B.A. degree.
Jim married Delores Thompson in 1941 and in February of 1942, a son, Douglas was born.
After basic training and gunnery school, he was assigned to the 39th Bomb Group for flight training in B-29s. Martin participated in all of the crew's 22 missions. As did the others on his crew, he received the Distinguished Flying Cross (DFC) and three Air Medals and various other medals and various other decorations. At the conclusion of World War II, Martin elected to remain in the Air Force.
In 1946, he was stationed at Eglin Field, FL. It was there that he met Jean Holloway, and in the following year they were married at Andalusia, Alabama.
In 1948, Martin was assigned to a unit at McDill AFB, Florida and then transferred back to Eglin for the years 1949 through 1952. Their son, Clarence, was born at this base on June 26, 1950.
Jim was sent to Enniwetok in the Pacific for five months in the 1952, where he was involved in "Project Greenhouse Atomic Testing"
Other assignments included Anderson AFB, Guam 1952-54; Maxwell AFB, AL, 1954, where a daughter Nancy Lee was born; Dover AFB, DE, 1954-56; Palm Beach AFB, FL 1956-59; Tinker AFB, OK, 1959-62 (During 1962, he spent five months in the Congo).
Jim finally retired from the Air Force on June 30, 1963 at Charleston, SC with the rank of Master Sergeant.
He moved to Andalusia, AL. that same year and became a successful Farm Bureau agent.
In 1976, Martin worked owned and operated the Martin Tomato Company (a wholesale packing firm). He sold his business in 1980 and entered retirement. In 1985, Martin underwent throat surgery. He passed away in the following year at the age 68. Jean worked for radio station from 1968-71, and held a secretarial position for a physician during the years 1972-1986. She moved to Prattville, AL in 1988 and has since remarried.
Jim is survived by three children - one from his first marriage - a son, Douglas, and two from his marriage to Jean - a boy, Clarence, and two girls, Emily and Nancy.