I enlisted in the U.S. Air Force on December 8, 1941 in Buffalo, N.Y. and was inducted Dec. 27, 1941 at Fort Niagara, N.Y. and sent to Jefferson Barracks, Mo. for boot camp. Twenty-one days later I was assigned to the 7th Air Depot Group.
On August 5, 1942 we departed NY City for Pointon Park, England near Liverpool. After spending one year in England I was sent back to the states – Nashville, Tenn. - for pilots training but calculus proved too much for me, and I was sent to Denver Colorado for twelve weeks of gunnery training at Buckley Air Force Base.
From there I moved over to Lowery AFB (also in Denver) for eight more weeks of Central Gunnery School and then sent to Pyote, Texas where I was assigned to a B29 crew. After our training period we left for Guam arriving May 25th, 1945.
We were assigned to the 61st Bomb Squadron, 39th Bomb Group. Our plane was named "Southern Comfort" and our official name was "City of Beaumont".

We flew 17 missions. Our first mission was Tokyo, Japan and we were on the last mission of the war. There were 128 B29's out on the last mission and we all got back safely.

I was discharged Nov. 17th 1945.

As of this date, I've managed to live to the ripe old age of 82. My wife Pat and I live in Boulder, Colorado and we have been married for 60 years. We have 4 children, 10 grandchildren (2 deceased), and 5 great grandchildren.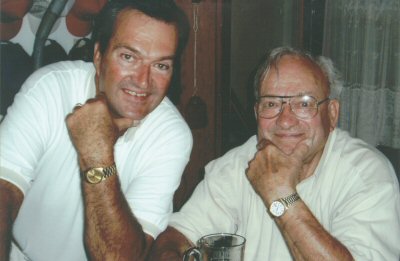 Clayt Orton (r) with is son Tom
May 2004
Clayt (r) with his younger brother, Richard
August 1, 2004