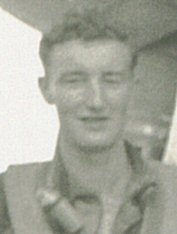 1st Lt John C. Dahl, Jr.
Navigator P-24
Guam 1945
IN MEMORY OF
LTC JOHN C. DAHL JR.
It is with deep sorrow and a feeling of personal loss that we, the members of the Savannah Chapter, Military Order of the World Wars, record the death of our esteemed companion LTC JOHN C DAHL, JR. on the 3rd day of June 1980.
LTC DAHL was born and raised in Lewis, Iowa and was a graduate of Moorehead High School (in Iowa). He attended William Jewel College, Liberty, Mo. and entered naval aviation cadet training in 1942. He was honorably discharged from the Navy in the following year and entered the U.S. Army Air Corps in November 1943. He was a master navigator-bombardier as well as an instructor and evaluator in B-58's with the 305th Bomb Wing.
During WWII LTC Dahl flew 23 combat missions in B-29's in the Far East. During his years of service he also served in the Southwest Pacific, Japan, European Theater, North Africa and Morocco as well in the CONUS. LTC Dahl's decorations and awards include the Distinguished Flying Cross, Air Medal with two Oak Leaf Clusters, Air Force Commendation Medal, Presidential Unit Citation with one Oak Leaf Cluster and appropriate theater and battle ribbons.
LTC Dahl retired from active duty in 1964 at Bunker Hill AFB, IN. He returned to Savannah where he had previously been stationed at Hunter AFB and was employed as personnel manager for the local Sears Roebuck and Co. outlet. LTC Dahl later became manager of the Decanter where he was employed for ten years before his untimely passing.
LTC Dahl was a member of the Methodist Church, The Air Force Association, The Exchange Club, Military Order of the World Wars and was a past president of the Savannah Chapter of the Retired Officers
Association.
LTC Dahl is survived by his wife, Mrs. Lenoa B. Dahl; two sons, Lt John C. Dahl, III of Ft. Stewart and David B. Dahl of Savannah; His mother, Mrs. John C. Dahl of Fremont, Neb. and several nieces and nephews.
Therefore, be it resolved that in the death of companion Dahl, the Chapter has lost a loyal and patriotic member and a faithful friend. Be it further resolved that this resolution be adopted, spread upon the minutes of the Chapter and copy be transmitted to his family.
Respectfully submitted,
William E. Mock
Chapter Historian
The above resolution was unanimously approved at the 19th December 1980 meeting of the Savannah Chapter of the World Wars.
Signed
Benjamin J. Byrd, Jr.
COMMANDER
ATTEST:
signed
CHIEF OF STAFF