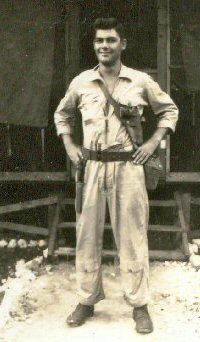 Kuebelback in front of Quonset hut he and the othe rmen shared with Crew 24
Photo Courtesy of R. Vogenitz, LG,
P-24
Henry Francis Kuebelbeck was born October 31, 1924 in Kansas City, MO to Mary Louise and Henry Kuebelbeck. Henry grew up in Vallejo, CA and graduated from St. Vincent's High School.
According to WWII Enlistment Records, Henry enlisted April 12, 1943 in San Francisco, CA.
He flew 28 combat missions as Tail Gunner on Crew 23.
On January 10, 1945, he married Verna Lucy Rupp. They have 2 daughters Judi and Janet; 4 grand children and 4 great grandchildren.
After the war, Henry and his family lived in Vallejo, CA. where he worked as a mail carrier with the U.S. Postal Service.
In 1959, he became a Postal Inspector and in 1960 Henry and his family moved to Las Cruces, NM and then to Roswell, NM.
He retired from the Postal Inspection Service in 1989 in Salt Lake City, UT. where he and Verna lived for several years. After the sudden death of Verna in 1981, Henry eventually moved to Carlsbad, CA. where he enjoyed many peaceful years with his friends and dear companion Mary Ester Weil.
In February 2000, Henry moved to Albuquerque, NM. to live with his daughter, Judi and his son in-law Richard. During this time he was able to share in the births and early lives of his four great grandchildren who spent much time with him and gave him a great deal of joy.
Henry loved to travel – he visited many places with Verna and continued his travels with Mary Esther.
Henry was a devout Catholic and a lifelong member of the Knights of Columbus. He continued to make contributions to his alma mater St. Vincent's/St, Patrick's School and also supported several other charities throughout his life.