Original Crew
B-29 # 44-69907

Photo courtesy of Freddi Bechtel, dau of Frederick D. Langham, RG

Photo courtesy of Freddi Bechtel, dau of Frederick D. Langham, RG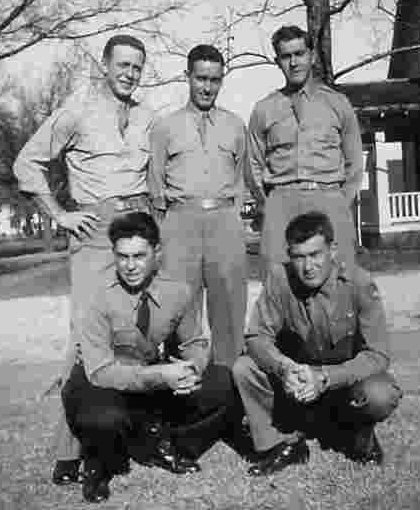 Photo courtesy of Lynda Davis-Logan, niece of
2nd Lt Jesse H. Chaffin, Bombardier
"Did you see that Blonde?"
"That's what was on one of the copies that Uncle Herb sent my great-grandmother - his grandmother....he always loved to tease her!"
Lynda Davis-Logan
Niece of 2nd Lt Jesse H. Chaffin
Update:
08 August 2006: Added photos to main page from Lynda Davis-Logan, niece of 2nd Lt. Jesse H. Chaffin; also a photo of 2nd Lt Chaffin has been added to his dedication page

5 July 2006: ** Sgt Walter E. Kurasowicz, LG was originally listed as "Jasper" in the above photo provided by Freddi Bechtel, dau of Frederick D. Langham. With Gene McLatchy's email of 3 July identifiying McCormick (not his brother James (McLatchy) - the only 2 logical choices among the crew for someone be nicknamed "Mac" and Gene not identifying "Jasper" as his brother - that leaves the only other 2 possible choices as Kurasowicz and Harold W. Lockwood. 1st Lt Elmo Houston, FE, Crew 7, reviewed the above photos and stated that Lockwood is not among those pictured - therefore the only remaining person is Kurasowicz. Note: the others IDed in the group of 5 are EM - so it does seem to fit.
3 July 2006: Thanks to Gene McLatchy, brother of 2nd Lt James I. McLatchy for identify Sgt. Maurice G. McCormick in the above photo.

29 August 2005: Thanks to Freddi Bechtel, for providing the above photos of Crew 9. She found the site and contacted us.

If you have any additional information about any of these men or the crew as a whole please email: updates@39th.org
This crew was lost in action on 15 April 1945 mission to Kawasaki Urban Area; their crew's 2nd mission (39th BG's 3rd mission).
The Missing Air Crew Report (MACR) regarding the loss of this crew is: 14279. This report is in PDF format. You can download a free copy of Acrobat Reader by clicking
If you already have a PDF viewer, click here to view the document.
Cpl Thomas Price and S/Sgt John Diamond were on duty in the control tower at the time of the crew's takeoff they are the ones who last sighted the aircraft according to the Missing Air Crew Report.