Born May 25, 1918 in Bucknell Indiana. He enjoyed sports playing basket ball and football. Desiring a college education he devoted himself to football and was offered a scholarship to Evansville University.
He enlisted in the US Army Air Corps in 1941; Separated from the service January 1947 at Mather Field, Ca

Offered a commercial pilot job with PanAm but turned it down

Returned to Evansville, Indiana to complete last year of college. Graduated with a BA in 1948.

He worked in the heating and cooling industryin sales most of his life, retiring as National Sales Manager from Westinghouse. He enjoyed golf but soon realized he could not play 24/7 so he returned to work for Calamc. He finally retired at the age of 74.

He married Pauline Greathouse they had one son Micheal; Wetsel and Pauline later divorced. Wetsel married Donna Mellor August 17, 1961. She had two children son Robert and a daughter Vickie from a previous marriage. Wetsel had 9 grandchildren and 10 great grandchildren.

Has endured some health problems for several years due to Parkinsons Disease and had been living in a Veteran's Admin Facility until his passing on November 8, 2004.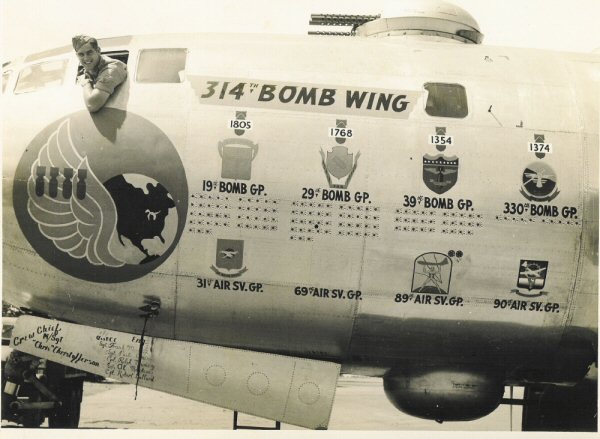 Capt Wetsel Waggoner pictured with the 314th BW plane
Photo courtesy of Waggoner Family
click photo to enlarge
Excerpts from
letters
Wetsel Waggoner sent home regarding his missions
Michael Waggoner can be contacted via email: