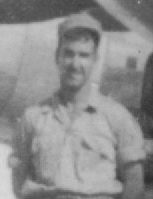 Sgt
Edmont D. Reinhold 1945
Ed was born in Ohio and raised in Indiana.
After the completing high school he was drafted, serving with Crew 7.
After the war he graduated from Purdue University with a degree in Electrical Engineering.
He married Donna Barnes and together they had two daughters, Rhonda an attorney and Marta, a geographic engineer.
His entire career was with U.S. Steel, retiring in Oct 1983.
Reinhold passed away in Taos, New Mexico, 5 July 1992.
Donna now lives in Tumwater, WA.
Service Awards