Richard "Dick" G. Brinck was born in Anacortes, Washington on July 20, 1922. At a young age he moved to the Seattle, Washington area where he eventually attended the University of Washington and Seattle University. Then joined the Army Air Corps as a Private in March 1942 and was accepted as a Pilot Cadet where he went through Primary Training, Basic Training, and Advanced Training at Luke Air Field.
Dick, left, reading about the Battle of Midway, 1942

Cadet Pilot Ricahrd "Dick" Brinck
in BT-13, 1942
After graduating as a pilot, 2nd Lt. Brinck instructed in AT-6s. Later he instructed in B-17s at Hobbs Army Air Field and Williams Field where he became a 1st Lt and built up a lot of hours of flying time. Then he transitioned into B-29s and was eventually transferred to the island of Guam in July 1945. There Dick was assigned Aircraft Commander (AC) of the B-29 combat crew that had been crewed in Davis-Monthan Army Air field, Tucson, Arizona and began flying near the end of July, beginning of August.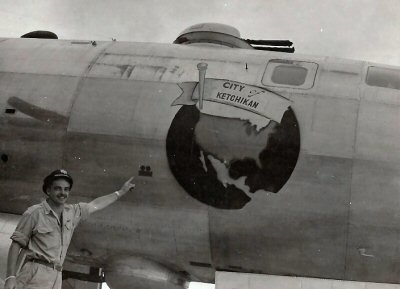 1st Lt Dick Brinck on Guam, beside the B-29 "City of Ketchikan" so named after the city in Alaska, where his father George was from.
On Guam Airplane Commander, 1st Lt Brinck was assigned with the 20th Air Force, 314th Bomb Wing, 39th Bomb Group, 60th Squadron. It was reported that he (and crew) flew sorties in multi-role functions including a power strike. During that time he as well instructed, and along with crew Pilot Cecil Davis flew a C-45 to Saipan. Also, with the crew, they flew to Okinawa and Iwo Jima on an undisclosed mission. In addition, the Brinck Crew were the first, or one of the first aircraft (B-29) to use Ground Control Approach (GCA) on the Island of Tinian after returning from a mission even though they were stationed on Guam. And they flew a bomb raid incursion against the Island of Rota.
After World War II Lt Brinck was assigned as a Pilot Instructor to B-29 Wings in Okinawa and the Philippines. Afterwards, Dick instructed in B-25s at Keesler AFB, Mississippi. He returned home eventually joining the Reserve while flying with a float plane service in Alaska but instead moved back to Seattle. In Seattle he started a gas station business where Air Corps pilot pal, Cecil Davis, worked with him but both were recalled to the USAF during the Korean War.
In 1952, now a Captain, Dick was stationed at Randolph AFB in San Antonio, Texas where he instructed in B-29s.
Capt Dick Brinck with his B-29 Wing
Randolph AFB, TX 1952
In 1953, Dick Brinck transferred from Randolph to Pinecastle (later renamed McCoy) AFB near Orlando, Florida. At Pinecastle Captain Brinck instructed in B-47s. The B-47 Stratojet was the first swept-wing jet bomber designed to fly supersonic speeds at high altitude to evade Soviet Union, enemy interception.
After Pinecastle Captain Brinck was transferred to McConnell AFB, Wichita, Kansas, in 1954 and continued flying and instructing in B-47s.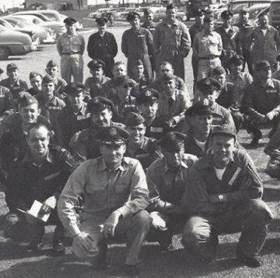 Captain Brinck at McConnell AFB in 1954. Flying B-47s, Dick is kneeling behind the Commanding Officer, on the left, in the flight suit without a hat.
In 1958 Captain Brinck, soon to be promoted to Major, transferred to Kirtland AFB, Albuquerque, New Mexico and assigned to Special Weapons Center. He transitioned into the B-52. The B-52 Stratofortress is a subsonic, long range, jet bomber that is still in use today
Kirkland AFB, 1958 B-52 Crew; Dick is kneeling in the center w/ B-52 in background.

Major Dick Brinck, after receiving the AF Commendation Medal
1962
In the B-52 Dick's duties were instructional, testing and operational. Major Brinck was a B-52 Instructor, Aircraft Commander and had the additional duty of Chief Flight Examiner for the B-52 section, and a Security Officer for the Drop and Diagnostic Unit. Some missions still remain classified but did include Operation Windlass, and Operation Dominic, also known as Project Dominic, which consisted of several nuclear test bomb drops in the Pacific in response to the Soviet Union resuming nuclear tests after the moratorium. After this particular operation Major Brinck received an Air Medal for his participation in the project from April to June 1962, and received the Air Force Commendation Medal for his exemplary planning and accomplishments for the Flashback Development Program contributing to the accurate performance from the B-52 during Exercise Roundup.

It should be noted that any involvement in relation to actual, live, armed atomic bomb drops is a rare and extraordinary task both then and now. Only the most reliable, gifted, experienced and stable personnel were assigned for such duty (he and crew are rumored to have the most 'live drops').


Captain Brinck
Kirkland AFB, 1958

Lt Col Brinck
before retirement
After a few more years at Kirkland AFB Dick Brinck was promoted to Lt. Colonel and retired from the USAF in Albuquerque in 1968 as a Lt. Colonel and Command Pilot.
After retirement he moved his family to Bellevue, Washington. Lt. Colonel Brinck ended his military career as a Command Pilot with thousands of flight hours (over 10,000). Dick attained Command Pilot as a Captain which is a remarkable achievement.
Awards and decorations are as follows: Air Medal, Air Force Commendation Medal, American Campaign Medal, Asiatic Pacific Campaign Medal, World War II Victory Medal, Army of Occupation Medal, National Defense Service Medal with bronze service star, Air Force Longevity Service Ribbon with three Bronze Oak Leaf Clusters, Air Force Armed Forces Reserve Medal with hour glass, and Small Arms Expert Marksman Ribbon.
Military aircraft flown (partial list): BT-13, AT-6, B-17, B-29, C-45, B-25, B-47, B-52
After the USAF, Dick went to work for Boeing instructing and delivering aircraft to foreign countries. He had lots of interesting trips, and his wife Betty, accompanied him on some of the travel. He retired from Boeing in 1982 certified in the 707, 727, 737, and 747.
Things that friends and former crewmembers remember are that Dick was a multi-tasker. He could listen to Jazz music and effectively concentrate and study for exams. He also had a keen intellect, an excellent engineer, and a talented mechanic. In addition, Dick was the ultimate jazz fan, one time driving to Canada to see Ella FitzGerald (his favorite singer) perform. The Brinck family also had acquired a cabin on the Skagit River (about two hours north and east of Seattle) and spent quite a bit of time there.

USAF Lt. Colonel Richard "Dick" Brinck died on July 10, 1993. Daughter Barbara tragically died of cancer and son Rick died of a heart condition. Wife Betty remained in Bellevue, Washington until her death in 2011.

USAF Lt. Colonel and Boeing Pilot Instructor Richard 'Dick' Brinck is survived by his loving daughters Sandra and Cynthia, and his grandchildren.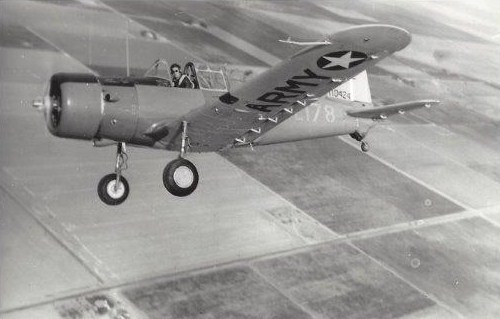 Richard "Dick" Brinck, 1922-1993