I was born in the New Holland, SD area and have lived here all my life, except for my time in the service.
I worked with my father who had a general repair shop and gas station. This being a farming area a lot of our work was on farming machinery. I worked for him and with him until 1961 when my father had quit for health reasons. I ran the shop until 1988 when I sold out. My wife was a janitor at the local high school at the time and was going to quit as the work was getting to be too much for her. After I sold the repair shop we started working together cleaning until this last year (2002).
Our town has a population of about 100 and like all small towns we have a hard time to keep going. My wife and I are in our eighties and we're having a big birthday party with all the family.
Our oldest daughter (who has 3 children) lives in Seattle, WA, our next 2 daughters (they have 2 children each) live 15 miles from here. Our only son and youngest daughter live in Sioux Falls. They each have 3 children so we have 13 grandchildren 5 of whom are married. We have 4 great grandchildren.
Every 3 years we try to have a family get-together for a week at a lake in Minnesota. The grandchildren are kind of scattered all over, at our last get together we had people from seven states.
I look forward to the summers when I can get out and work in my little garden. In addition to our (big) yard, I also mow a few yards for the older ladies in town.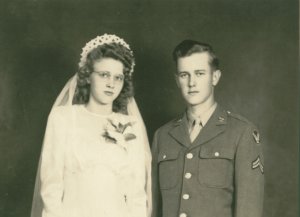 Eleanor & Cornelius Lieuwen
1944
I enlisted in the Army Air Corps and was sworn in at Fort Snelling, Minnesota October 1942. I had my basic training at Kelley Field, Texas, from there first to airplane mechanic school at Sheppard Field, Texas and then to propeller school at Chanute Field, IL. When finished with school I was sent to Smokey Hill, Salina KS for training. The year 1945 was spent overseas on Guam with the 39th BG in the 61st Squadron. I was discharged from Camp McCoy, Wisconsin January 1946.