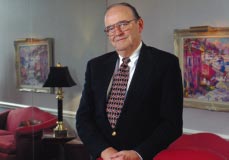 Dr Laurence B. Leinbach, MD
Photo coutesy of Wake Forest Univeristy
Laurence enlisted on 27 Jul 1944 and entered into the service from Ft. Bragg, NC. Prior to this he was student having 2 yrs of college under his belt.
Brick (as he was known) returned home from the war to attend Medical School at Harvard, and was a Radiologist and Professor of Radiology at Wake Forest Baptist Medical Center/ Bowman Gray School of Medicine from 1957 to 1996 (40+ years).
He passed way Dec 15, 2000.
He is survived by 2 daughters, one son (my husband, Laurence Brickenstein Leinbach II) and 13 grandchildren. He was predeceased by one daughter and his wife.
When he passed away, we found many old letters he had written home to his sweetheart who became his wife and his parents --- he was proud to serve his country, and was proud of the others he served with.