"Queen Cathy"
B-29 #42-94053
1st Lt Edmund J. Flynn
Airplane Commander

1st Lt Andrew P. Silvka
Bombardier

1st Lt Warren C. Foster
Navigator

Photos courtesy of Warren C. Foster, Nav.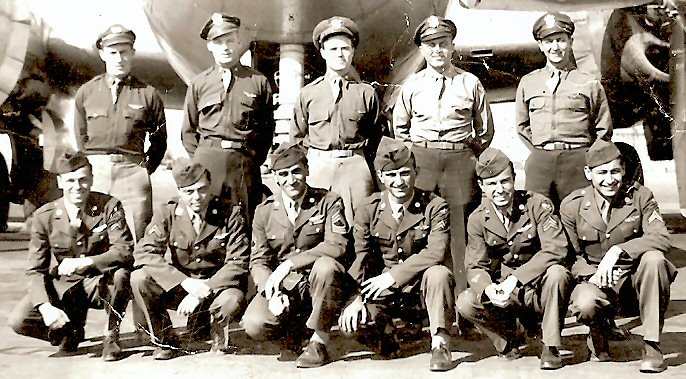 Original Crew 6
Photo Courtesy of Mike Repucci, Son of M/Sgt Angelo P. Repucci, FE
Standing L to R:
F/O David Lemon, Chicago, Radar; 2nd Lt Warren Foster, Cleveland, Nav; 1st Lt Edmund Flynn, NYC, AC; 2nd Lt Victor Pomiecko, Clairemont, NH, Co-Pilot; 1st Lt Andrew Slivka, Detroit, Bomb.

Kneeling L to R:
Cpl Raymond Schwartz, Indiana, Radio; Cpl John Tynan, CT, RG; M/Sgt Angelo Repucci, Boston, FE; Cpl Robert Wisniski, Pittsburgh, LG; Sgt John Regoupoulos, San Pedro, CA, CFC; Cpl Estiben Garcia, Laredo, TX, TG.
Note: date and location where photo was taken is unknown; names, cities and positions as they are listed on back of photo.
Continued